The creation of NK's High-twist No-show Liners was inspired by an encounter with a pair of hand made leather moccasins from a shoe shop in Kobe called OLDMAN.
I (Isato Nishiguchi) was completely drawn by its strikingly beautiful form and that was when I made up my mind to make socks that will pair well with those shoes.
"For men to look their best in stylish summer shoes"
The idea around our High-twist No-show Liners was to create one that compliments shoes and stays on, allowing men to showcase their loafers in comfort.
No-show liners either have a tendency to slip off or hurt due to the elastic being too tight and depending on the design peeping out above the shoe, it could ruin the look.
We went through various adjustments and vigorous testing using a points system to reach our goal of producing a pair that don't slip off the heels.
One we finalized it, we asked some of our buyers who have an eye for no-show liners to test out the samples, however the lack of feedback was a sign that they were not amazed by them so we went back to the drawing table and started from scratch.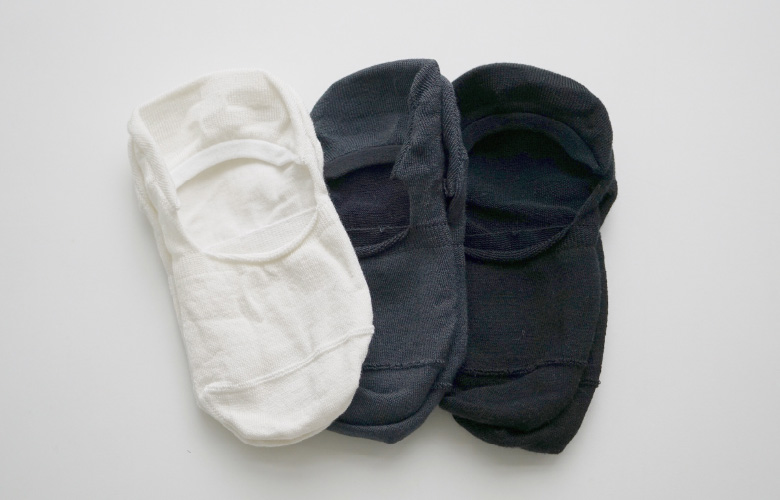 After more extensive testing, we discovered that although the elastic around the heel prevents the liners from slipping off, prolonged wear caused the heels to hurt. This delayed the launch for a whole year and a half as we researched how the material enveloped the heel, the perfect angle, best elasticity, right thickness of the non-slip silicone and the overall design. It took time but we finally perfected our High-twist No-Show Liners.
These socks are not meant to take the spotlight, however they work in the background to comfortably support and showcase men's summer fashion.