With NK's reasonable pricing being appreciated by our customers, it may come as a surprise that we would produce such a luxurious sock as our Cashmere Ribbed Socks.
We often questioned the quality of other cashmere socks that lined the store shelves during Christmas time. We didn't think their quality met the high price and wanted to create our very own that we could sell with confidence. We also wanted to create cashmere socks that would truly be appreciated as a Christmas gift.
In order to bring out the qualities of cashmere, we needed to look at the quality of the yarn and determine the perfect thickness. Additionally, we wanted the socks to be durable.
Our goal was to create cashmere socks that our customers could enjoy for many years, similar to the generously woven, luxury cashmere sweaters from the past. We wanted them to be different from the fluffy-looking but thinly woven cashmere socks often sold in stores today.
After testing out a few patterns, we found that when cashmere is thickly woven, it compresses, losing its silky softness, so making them thicker was not necessarily better. We created numerous samples and tested them out to achieve the perfect thickness.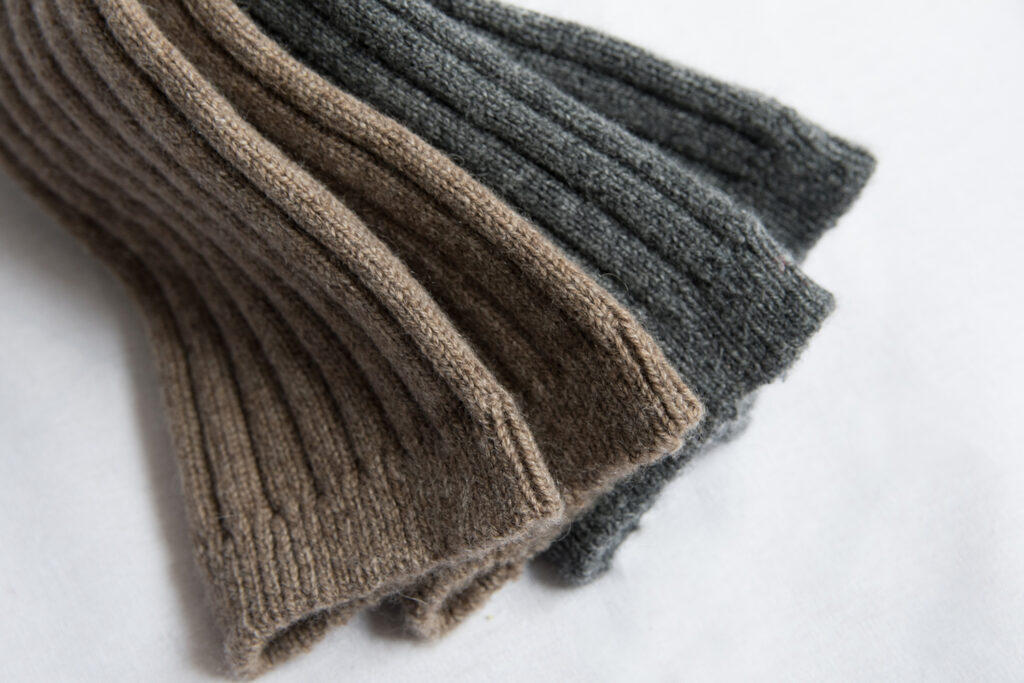 For the cashmere material, we tested three different yarn from different companies and found a brand called Fukaki to be the perfect match. The Fukaki company has a long tradition in yarn spinning that is reflected in their products, ensuring durable cashmere, even with its fine and delicate texture.
With the pattern, thickness and Fukaki's yarn, the final product was a sock that feels slightly firm at first, but is durable, revealing the silky softness of cashmere the more you wear them; just like a cashmere sweater from the old days.
For extra durability in the toes and heel, we used the same technique cultivated during the creation of our Wool Jacquard socks.
The more you wear them, the more it brings out the qualities of cashmere. This is how cashmere socks should be!
Call us egotistical but we know our Cashmere Ribbed Socks will make your days extraordinary by keeping you cozy and warm during the cold winters and we are also confident that they will be the perfect gift to give to that special someone.