Do you know what a long hose sock is?
In places like England and Italy, it is customary for men to wear high socks, aka, long hose socks when wearing a suit; the etiquette being to cover the shins.
In Japan, only a minor group keen on adopting european fashion, are acquainted with the long hose sock, pairing them with leather shoes and suits.
One day a customer and fan of NK products commented,
"I'd like to wear long hose socks created by NK"
At that point, we didn't have enough reasons to go ahead with producing such a minor item however, after testing a few samples we realized we could change the thickness and the type of material to create a versatile sock that pairs well with both suits and casual wear.
Compared to the variety in types of socks available for women; crew socks, high socks, knee-high socks, thigh-high socks, leggings and tights, men's socks are limited to crew socks and leggings. Even with fashion, wool or cotton crew socks are the typical sock to wear with jeans and wide pants. It got us thinking that we could impact men's fashion with this new style of casual high socks.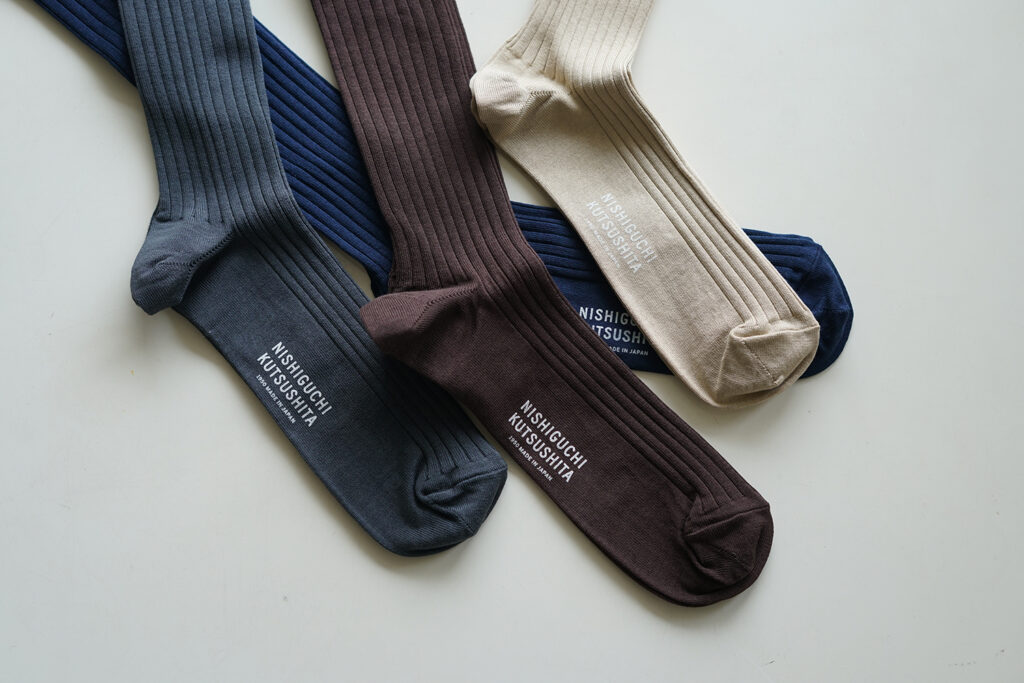 Through trial and error, we finalized our choice to silk-cotton for the material. A typical long hose sock is made of either cotton or wool with a design fitted for suits, but the silk-cotton gave a rich lustre, ideal for pairing with suits while providing softness and warmth.
From winter to spring, we tested numerous samples every day and found that we preferred the controlled heat retention and luxurious texture of silk over the warm wool.
We liked that the easy to wear cotton base with blended silk kept feet thermoregulated maintaining a comfortable warmth with a soft texture that is pleasant to the touch.
Even then, we knew that it would take extra effort to market such a niche type of sock but there was no turning back; our heart was set on producing fashionable winter socks for men!
With the support of our wholesale buyers who also shared our concept of "making people's days extraordinary", we believed that the Silk Cotton Long Hose Sock would steal the spotlight on store shelves and raise the standards in men's winter socks.
In the near future, we foresee NK's long hose socks regularly being sold on store shelves in countries that are the home of long hose socks, such as Italy and England.