Mohair Wool Pile Socks
NK's Mohair Wool Pile Socks were made for our friends in colder climates to help "make their days extraordinary".
NK's client, a wholesale buyer from the north east region of Japan once commented,
"The wool socks wear out easily and only come in dark colors. Could you make a more durable sock that comes in more colors?"
This feedback completely changed our idea of wool socks having to be thick, bulky and dark.
It got us curious to know what other customers from the northern regions thought.
After receiving more feedback from several regions, we found that our northern friends wear snow boots and change into indoor shoes at work, so thick socks are not always ideal. They also start their day by shoveling snow, so a brightly colored sock just might help brighten their mood in the morning.
This project opened our eyes to a world we had never experienced and we were eager to create socks that can fit into these people's lives and support them through their day.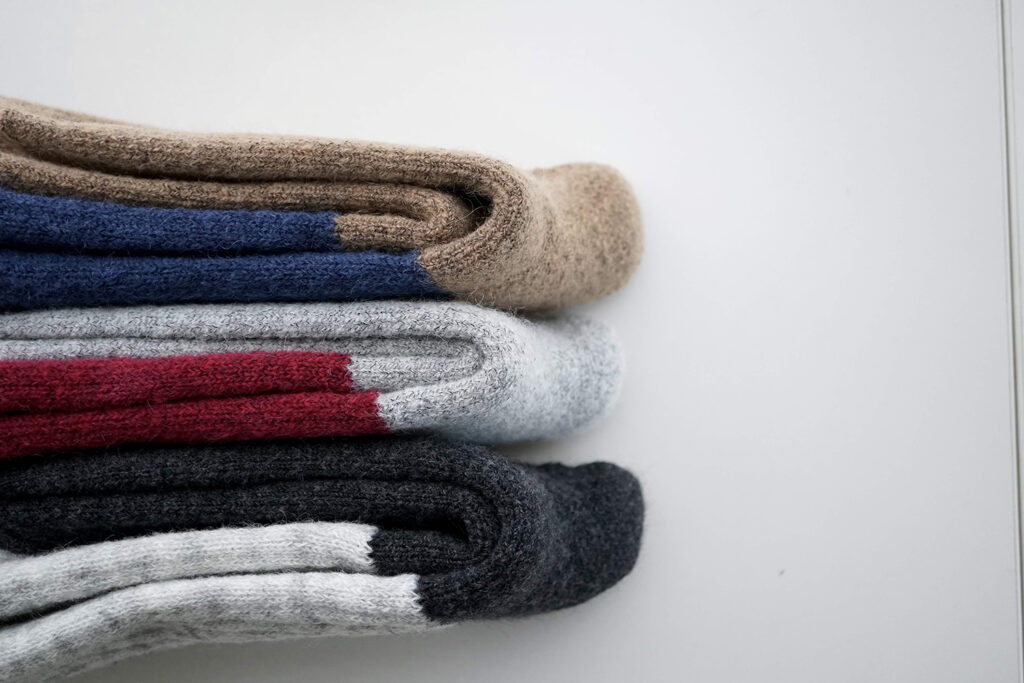 We designed socks with a flexible pile weave providing enough thickness to be worn with both boots and shoes, with an ability to shape to the feet.
For materials, we selected a blend of mohair and wool for heat insulation and softness.
We also learned that keeping the ankles warm helps to keep the body warm so we incorporated a leg warmer in the sock by double weaving from the ankle up.
For the color, we used two tones and chose brighter, easy to coordinate colors like bordeaux. We now incorporate seasonal limited colors to make the snow season more exciting every year.
These socks were made with hopes that our friends in snowy climates can feel great everyday.